Kai Yang is a dish originally from Laos and the North-Eastern part of Thailand, now very popular and eaten all over Thailand. Commonly found in street markets, it is usually served with sticky rice or spicy papaya salad.
Kai Yang Recipe (Thai Grilled Chicken)
The dish is both spicy and sweet, also with a smoke flavor, as the chicken is grilled over a low heat on a charcoal flame.
INGREDIENTS: (for 4 shares)
1 whole chicken or 6 chicken breast halves
1 cup coconut milk
3 tbsp minced garlic
salt and black pepper
2 tsp roasted dried chili flakes
1 tbsp spring onion, chopped
4 whole plants coriander, including roots, chopped
2 tbsp mint leaves
1 tbsp roasted rice
1 tsp sugar
1/4 cup lime juice
1/4 cup soy sauce
PREPARATION:
• In order to make the dipping sauce combine the dried chili flakes with sugar, half of the soy sauce, lime juice and ground roasted rice and mix well. Sprinkle with a bit of chopped coriander, spring onion and mint leaves, set aside.
• Blend coriander roots, garlic, salt and pepper in a blender. Rub the paste on both sides of the chicken.

• Mix coconut milk and soy sauce together to get a marinade and leave the chicken in to marinate at the room temperature for 2 hours.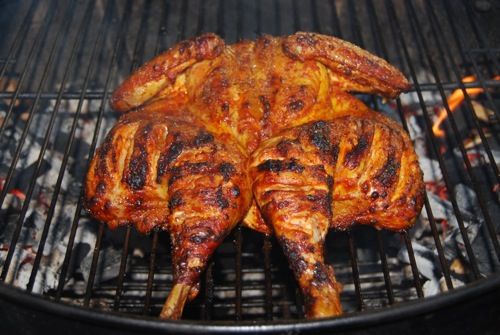 • Grill the chicken over low heat until cooked.
Cut the chicken in serving pieces, serve with the dipping sauce and sticky rice. Garnish with red chilies.