The Miao is an ethnic minority with a population of about 9 million people, larger than most minority groups in China. The Miao have immigrated during the history, today living mainly in Guizhou, Hunan, Hubei, Yunnan, Hainan Provinces and the Guangxi Zhuang Autonomous Prefecture.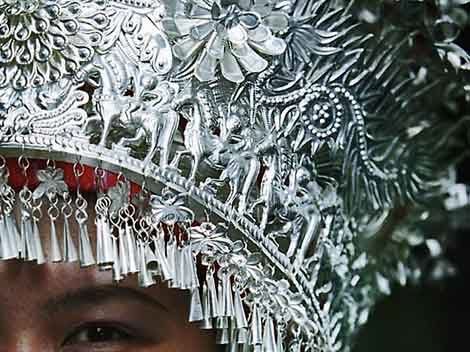 The Miao ethnic group silver ornament
The Miao women fancy silver ornaments, and wherever they live, their dresses and their silver jewelries, will become the local attraction and cultural sight.
The purpose of wearing all this silver is, of course, primarily aesthetic, but it also shows wealth and is thought to ward off evil forces.
While worn by women, the Miao ethnic minority's silverware is made by men.
The Miao women usually wear silver crown, circlet, bracelets and chains all over their body. The silver ornaments on a Miao woman can be as heavy as 10 to 15 kilograms.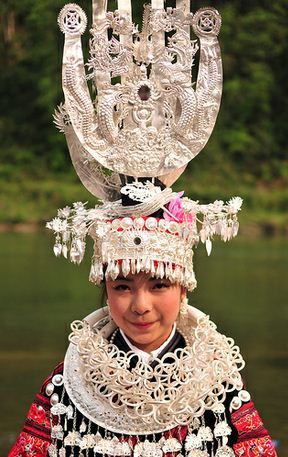 Many people would ask themselves 'Where do the Miaos get the silver from?'. Well, as the regions in which the Miao silverware are produced have no natural silver resources, the Miao people melted almost all the silver coins and ingots they earned.
The silver ornaments of Miao are not only decorations; the ornaments can also be used as tokens, mascots for children, or even traded when the Miaos lack money.
Categorized by functions, there are hats, clothing, necklaces, bracelets, rings and they include crowns, horns, circlets, hairpins, pins flowers, combs, collar stands, earrings, finger rings and foot rings.
There is a huge demand for Miao silverware but, as all the craftsmen are amateurs, they can only work during the farming off season (farming being the Miaos main source of income supplemented by hunting).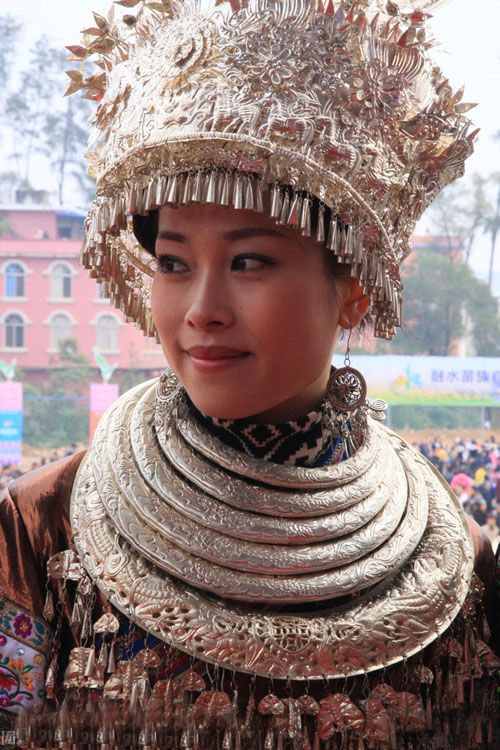 The design of the silver decorations is inspired by embroidery and the techniques used to make the silver ornaments are knitting, beating and carving, while the patterns adopted are mostly plants, animals such as dragon, phoenix, flowers and birds.
Now indeed, that's an art! But what I'd call the real art there is the way they manage to walk and even dance with those enormous ornaments. Now just try to imagine how you'd walk with a 10kg basket on your head. Quite impossible, ne? ;D